hco125

Posts

: 4


Points

: 8


Join date

: 2019-01-31

on Thu Jan 31, 2019 5:34 pm
Here are my layout settings: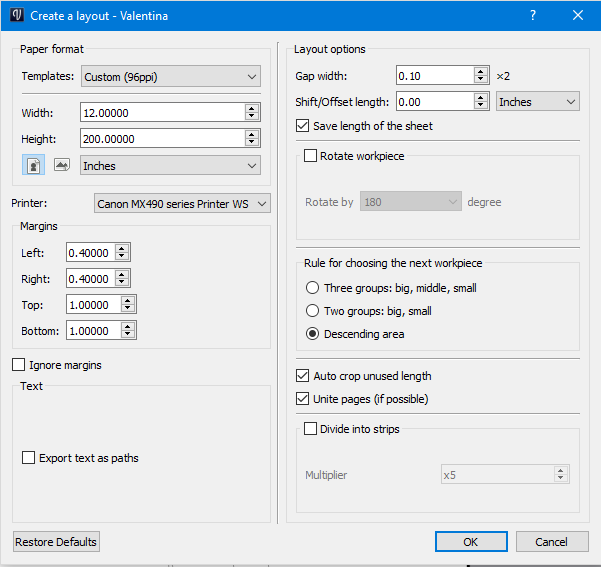 However, the margins are being ignored, even when the "ignore margins" checkbox is left unchecked. In the image, below, the pattern pieces are being placed all the way at the edges of the layout.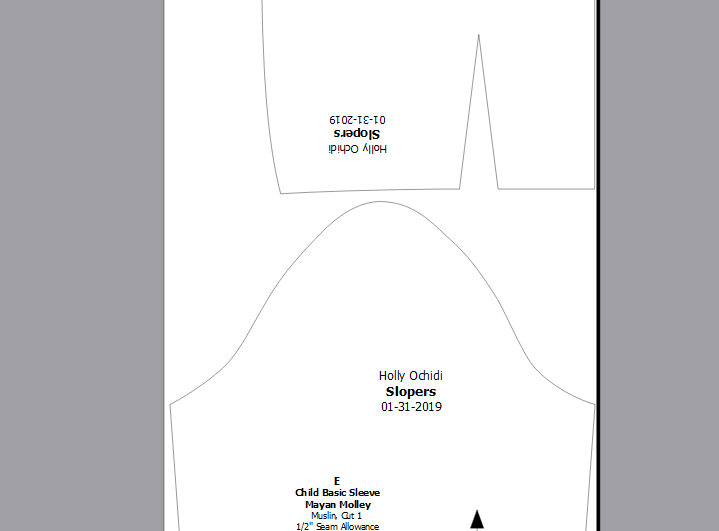 The trouble with this is that when exporting to a tiled PDF file, it splits it into an extra column on a grid that is unnecessary no matter what I do. For example, my paper is 11" x 17", so I set my layout to be 12" wide and the pattern pieces go all the way to the edges...i cannot fix that no matter what size I set the layout....then the pdf gets split even though I tell it to use landscape mode of size A3 paper (16.5" x 11.7").
Here is settings for saving the layout as a tiled PDF:
And here is how it is split in the PDF that is generated at a size of A3 (16.5" x 11.7"), which means that double the sheets are generated than are necessary: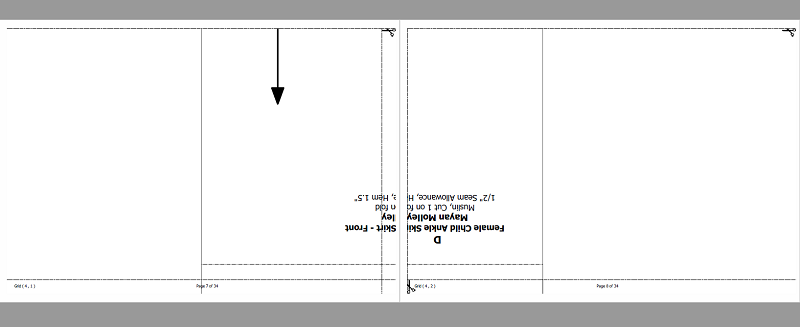 Also, is it possible to add more options to the paper sizes for tiled pdf export, or an option to input a custom size?
EDIT: I think that the settings for the A3 paper in your program are incorrect. A3 is "supposed" to be 16.5" x 11.7", however, in my PDF file that is generated, it is not that size. How do I fix this?
Thanks,
hco125
on Thu Jan 31, 2019 5:39 pm
Hi.
Please submit two new issues
here
. One for your problem and another for the request. Don't forget to tell me version you have been using and provide test pattern. Test pattern need for me to quickly test issue.
hco125

Posts

: 4


Points

: 8


Join date

: 2019-01-31

on Thu Jan 31, 2019 6:08 pm
Done!

Links to the posted issues:

Not allowing me to post links here yet...

So the the titles of the posts at the link given in your previous reply are:

#935: Layout Margins being ignored...problems creating tiled PDF

#936: Request: More Paper Format options in Save Layout mode, check sizes of current options (are they correct?)

Thank you.
on Thu Jan 31, 2019 7:03 pm
Okay, give me few days to check and fix.

Permissions in this forum:
You
cannot
reply to topics in this forum